Photo-Quality Images in just 15 seconds
Our diagnostic capabilities just took a major leap forward with the addition of our Siemens Somatom Perspective! Now, in a matter of seconds, we can create three-dimensional images of your heart, brain, circulatory system, skeletal system and internal organs. This allows physicians to diagnose narrowed arteries, internal bleeding, early-stage cancers and much more. It also gives physicians the ability to detect disease early, when it's most effectively treated and often requires less invasive treatments with better outcomes.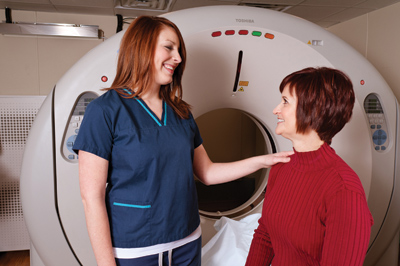 Our new CT scanner can also help stop strokes in their tracks. Thanks to the fast, highly detailed brain scans it delivers, if a patient arrives at JCH with stroke symptoms, the physician can verify and administer a clot-busting medicine that helps prevent brain damage in a matter of seconds.
Precision Technology. Lifesaving Diagnostics.
Powerful diagnostic tools, an expert staff, and exceptional service? This is what you can expect when you make Jersey Community Hospital your preferred choice.
JCH is proud to offer convenient cutting-edge diagnostics to our community. We work with you and your insurance company to determine out-of-pocket costs upfront. Low stress, effective medicine. Exactly what you need. Jersey Community Hospital's state-of-the-art Imaging Center offers an array of services including:
X-Ray
Ultrasound
Cat Scan (CT)
Mammography
Nuclear Medicine
Magnetic Resonance Imaging (MRI)