INTRODUCING THE NEW MYCARECORNER PATIENT PORTAL
The Patient Portal is a secure web-based system that will allow you to access portions of your medical record. Once you have registered for the Patient Portal, this service is available online anytime you want to log in.
For previous portal users, you may click here to access the former Thrive Patient Portal and be automatically redirected to our new MyCareCorner page.
How do I get started?
New Patient Portal Users:
After a visit to Jersey Community Hospital, you will automatically receive an email with instructions on how to create your MyCareCorner profile.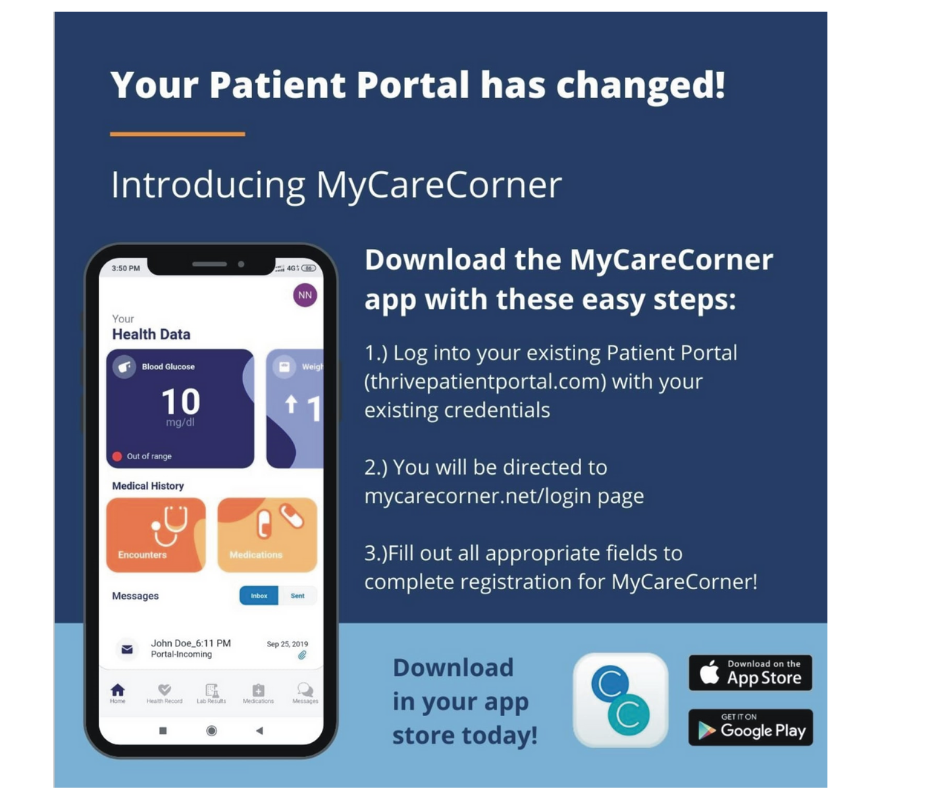 Past Portal Users:
Migrate your account in 3 simple steps:
Sign in to your previous Thrive Patient Portal account
You will be redirected to mycarecorner.net/login page
Click Create Account and Fill out appropriate registration fields to complete registration for MyCareCorner
What is needed to access the Patient Portal?
All you need is a computer, laptop, tablet, or smartphone with internet access and an email address.
Can I register for the portal over the phone?
No. For security reasons, no personal information will be accepted over the phone.
Why can't I access my child's account through the portal?
For children under 18, limited Patient Portal accounts will be available. Privacy Laws prevent parental access to certain portions of a child's records. For copies of your child's Medical Record, contact our Health Management (HIM) Department at (618) 498-8309, during Regular Business Hours, Monday – Friday 8:30 am – 4:00 pm.
I am having trouble logging in and accessing the Patient Portal. What do I do?
Please contact JCH IT Department during Regular Business Hours, Monday – Friday 8:30 am – 4:30 pm at (618) 498-8357. They can assist you in accessing your Patient Portal Account. If your call is received after Regular Business Hours, leave a message and contact your phone number. Your call will be returned on the next Regular Business Day.
What if I forget my password?
Log on to the Patient Portal and click on the FORGOT PASSWORD link. Follow the Directions.
Some of my medical information is wrong. How do I correct this?
Regarding your Medical Information, our goal is to have an interactive partnership with our patients. We believe that the Patient Portal will help us keep your information correct. If you believe there is an error within your Person Medical Information, please contact us at (618) 498-8309, during Regular Business Hours.
Is this the same portal used for JCH Medical Group?
No. The Hospital and Clinics have their own electronic health record system so this does not provide access to your health information through our clinics.
Other Helpful Links
Adding Family Members to Your Account