Lifeline is an easy-to-use electronic device designed to signal a friend, relative or emergency service whenever help is needed. Lifeline provides peace of mind, independence, and convenience for older persons who live alone, family caregivers, and individuals with high-risk medical conditions.

How It Works
Easily installed, the system has two parts: a small pendant transmitter worn by the user and a receiver connected to the user's telephone. Simply by touching a button on the console or pressing a button on the lightweight remote control pendant, the system is immediately activated and a call automatically placed to a 24-hour Monitoring Center staffed by professionals. Within seconds, a friendly voice responds to your call for help or companionship.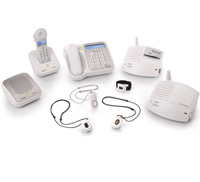 What's more, the attendant has access to your medical history, as well as phone numbers for emergency contacts and the local ambulance, police and fire department. All of this information appears on a computer screen in less than one minute from the time your call is placed.
Satisfaction Guaranteed
Lifeline comes with a 100% satisfaction guarantee. If at any time your product needs service, notify your representative, and the Lifeline will be repaired or replaced free of charge.
For local assistance in setting up your Lifeline, contact the Clinical Advancement Department at (618) 498-8311.