Cardiac & Pulmonary Rehab
Cardiopulmonary rehabilitation is a multi-disciplinary approach to promote wellness and a healthier lifestyle. A progressive exercise prescription will improve endurance for a rapid, but safe transition to previous recreational and occupational status. Education on heart and lung function as well as the disease process, medication, diet, and risk factor modification will help reduce symptoms and limitations of cardiac/lung disease as well as reverse presence of atherosclerosis. Studies show a 25% reduction in cardiovascular death with patients in a medically supervised prescribed exercise regimen.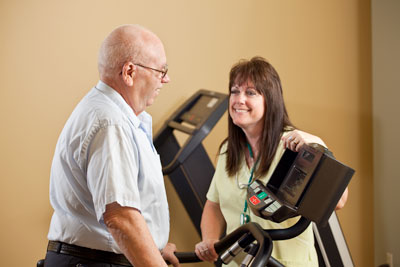 Am I a candidate?
Hospitalization or surgery for cardiovascular disease are not the only reasons for enrollment in this program. Difficulty breathing and lung disease symptoms can be improved with participation. Listed below are a few diagnoses that will qualify for rehab:
Bypass Surgery
Heart Attack
Heart Transplant
Stable Angina
Asthma
COPD (Chronic Obstructive Pulmonary Disease)
Emphysema
Why should I participate?
Cardiovascular disease is the leading cause of death and disability in the U.S. for both men and women. About every 29 seconds an American will suffer a coronary event, and about every minute, someone will die from one. Approximately 50% of all deaths are due to this disease. Exercise, education, and risk factor modification will reduce future heart disease and incidence of sudden death. Less than 1/3 of the patients with coronary disease who are eligible candidates for this rehabilitation participate in the program. This includes 1 million who survive heart attacks, 7 million with stable chest pain, and hundreds of thousands with bypass grafts or angioplasty.
COPD ranks fourth among the leading causes of death. Lung cancer is the leading cause of cancer death in both men and women in the U.S., causing at least 160,100 deaths in 1998. Although most smokers in the U.S. report that they want to stop smoking, more than 47 million adults continue to smoke. All of these people could benefit from pulmonary rehabilitation, which helps to lessen symptoms and complications of pulmonary disease and teaches participants how to achieve an optimal level of independence and physical capabilities.
How do I start?
Let your physician know you are interested in the program or contact the Rehabilitation Staff.
Who is on the team?
Cardiopulmonary Rehab offers a team effort toward a healthier lifestyle. Your physician, a registered nurse, respiratory therapist, dietician, and other medical professionals will participate with you as a team to promote optimal wellness.
Benefits include:
Decreased hospitalization.
Decreased need for medication.
Decreased body fat.
Decreased respiratory infection.
Decreased lipid & cholesterol levels.
Increased quality of life.
Increased lung function.
Increased endurance with daily activities and exercise.
Rapid and safe return to work.
Meeting others who have been through similar events.
Helping family members toward better health.
What about reimbursement?
This service is covered by most insurance companies, including Medicare.
Services offered:
Smoking Cessation Classes
Supervised Exercise Sessions
Medication Counseling
Dietary Counseling
Stress Management